About Us
ACCENT WALLS – OWNED & OPERATED BY MARTIN SKARET
Business History & Philosophy
In the spring of 1993 I graduated from the Turf Grass Management course at Fairview College in northern Alberta. My son, Keenan, graduated from Olds College in Landscape Management in 2005.
I started my landscape career working for a St. Albert company. Block retaining walls and Paving stones were becoming more popular at that time, so I became the designated wall builder.
In 2005, after 11 years of building retaining walls as an employee, I decided to start my own company, called Accent Walls. My son, Keenan, came to work for me. Since the beginning, we have specialized in block retaining walls and paving stone. Keenan and I have both taken the 3 levels of Allan Block certification courses and both of us hold the "Certified Master Builder" designation. To achieve this certification a person had to physically build 25,000 square feet of Allan Block wall in one summer. I have done that several times over in my "hard landscape" career.
Some of the most notable walls that we have built are:
The 1000 foot long walls at Whitemud Drive & 34th Street, totaling about 16,000 square feet.

All of the walls, totaling about 18,000 square feet, at city View Industrial Park. The highest & longest wall at City View backs up against a high pressure gas line.

The 87th Avenue golf cart tunnel at Suder Greens Golf Course in Lewis Estates.

All of the walls that make up the Pedestrian Tunnel under the twin railway tracks in Jasper, Alberta.
In the last 6 years we have expanded into building wire cage walls, SierraScape and Gabion, like the ones we built at the new Hole's complex, The Enjoy Center, in St.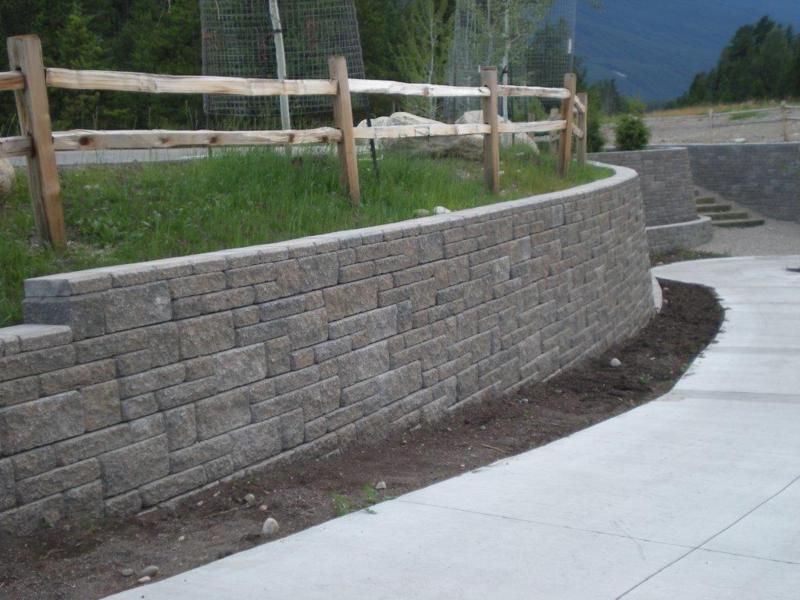 Albert. We have also built walls using Lock Blocks, like the terraced walls at the Visions retail site on Inglewood Drive in St. Albert.
Accent Walls runs only one crew made up of myself, my son and a few employees. By communicating directly with project managers & site superintendents, I deal with all job details, changes & challenges first hand. Being on the jobsite everyday allows me to maintain top quality & efficiency in every project.
Accent Walls constructs mainly commercial walls & paving stone, but we do some residential landscaping as well. Commercial walls require engineering and expertise to build and we pride ourselves in building walls that don't fail. Expertise in producing top quality results is our specialty.
Our company motto is: "If you can dream it, we can build it."